Jane Wood, pianist | Rhode Island (401) 339-6749
Jane Wood, Musician
Jane moved to Rhode Island in summer of 2018. Many years of experience have attributed to her success as a solo pianist, accompanist, teacher and vocal coach. Her latest venues have included theme/cocktail parties, memorial services, weddings, accompanying for vocal soloists and/or choral groups.
401-339-6749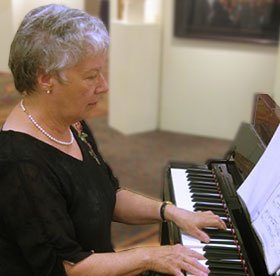 Recent 2019 Venues
Blithewold Mansion, Bristol, RI
Linden Place, Bristol, RI
First Unitarian Church of Providence, RI (weddings, memorial)
Past Venues
Barrows House, Dorset Church, Dorset Inn, Equinox Hotel, Equinox Pond, Hildene Meadows, Inn at Westview Farm, Perfect Wife, Private Residence, The Reluctant Panther, Riverside Farm, Stratton Club, Tilting at Windmills, Wilburton Inn.
Wedding Piano
All couples who have set their wedding date are invited to my home for a listening and consultation session. Some couples come to this session with definite ideas and others come to pool their thoughts with me. During this session, we'll talk about hiring additional musicians (harp, flute, trumpet, bagpipe, vocal soloist) and I'll play through many samples of music. Phone consults are also encouraged and last minute changes are fine. When piano or organ is not accessible, Jane will bring keyboard and amp
Wedding Rehearsal
Whenever possible, I will attend rehearsals.
The Wedding
15-20 minutes of music is played while your guests are being seated. I have sets of music in many genres to choose from or you can pick the pieces I play.
Processional and Recessional Piano Music
Your musical selections while you walk to and from the altar or marriage location. In-Service piano during candle lighting or for a soloist. We can pick music for your processional/recessional or I can select pieces for you.
Postlude Piano Music
While your guests are exiting.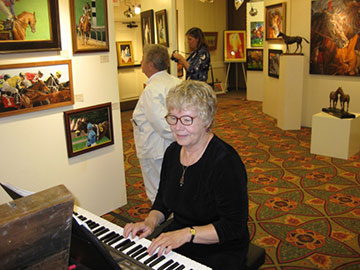 Biography
EXPERIENCE: PERFORMING MUSICIAN
Musical Theater: Music Director, ensemble musician
Music Director: United Church of Dorset
Piano Soloist
Piano Accompanist
Vocal Ensemble Singer
Published Composer
Arranger
EDUCATION
B.A. Degree
Post Grad work: Rudolf Steiner, Waldorf Education
EMPLOYMENT
Accompanist: Bristol Camerata (vocal ensemble) Bristol, RI
Accompanist: Memorial Baptist Church Seekonk, RI
Accompanist: Chorus of E Providence and Greater Tiverton Community Chorus
United Church of Dorset employed since 1993 Music Director Choir Director 25+ SATB voice choir, director of CD recording made in 2002, "Morning Has Broken" Organist/Pianist Choir Director for concert featuring Judy Collins (2004) Coordinator of music for all worship services Coordinator of all musical events including drum worship services, folk/guitar services, small ensembles, visiting musicians Choir Director for concert featuring Judy Collins (2006)
Self Employed Piano soloist/accompanist
Dorset Theater (professional) Music Director: Peter Pan, Tom Jones, Nunsense, Music Lesson, The Fantasticks, Rough Crossing
Dorset Players (community) Music Director A Christmas Carol, The Little Mermaid, You're a Good Man, Charlie Brown, Sound of Music, Anything Goes, Brigadoon, Oklahoma, Alice in Wonderland, Cinderella, Winnie the Pooh, Salute to Scotland.
Vocal Ensemble - founding member of Cantare